I posted this in responce to the "survival kit" thread that was started here. I decided to post it on it's own as a new thread to be sure that if anyone could use this they'd find it hopefully easy. Please don't hesitate to ask if you have any questions.
I was irritated with the lack of storage under the seat of my '90 750 Kat and came up with a simple mod i've been very happy with. I made the area between the battery box and rear fender larger simply by unbolting the fuse block from the battery box, moving it to the right, and refastening the left hand fuse block mount hole onto the right side battery box bolt hole. You can wiggle the right end of the fuse block assy between the battery box and rear master cylinder. this opens up a HUGE amount of room between the battery box and rear inner fender. there is even a squarish area molded into the inner fender which gets exposed.
This area is kinda open tho, and stuff can wiggle and fall out without a bit more work. I made a template, and transfered it to a piece of roofing aluminum. cut it out, a few bends, a few folds, a few holes in the right places and it wiggles and bolts right into the edges of the space enclosing it nicely. NO frame modifications at all. I used existing bolt holes in the frame and battery box to attatch it. I used a little metal ducting tape to cover any sharp edges and seal any seams. while i havent actually measured the space gained, i bet it's somewhere between 50 and 75 cubic inches or more. I even managed to accomplish all this without removing any bodywork at all, even tho removing the left rear tail section would make it a little easier install.
If anyone is intersted, i could get some pics (pics now added), write up some install directions, and probibly even make up a few aluminum pre drilled, cut, and folded enclosures. I might even be able to transfer the template to a PDF file for those with the materials and want to fabricate it themselves. If anyone near southern MN has a pre 600 i'd love to see if they could be made to fit.
R
Pre 750 before : (Mdmaro's '96 750)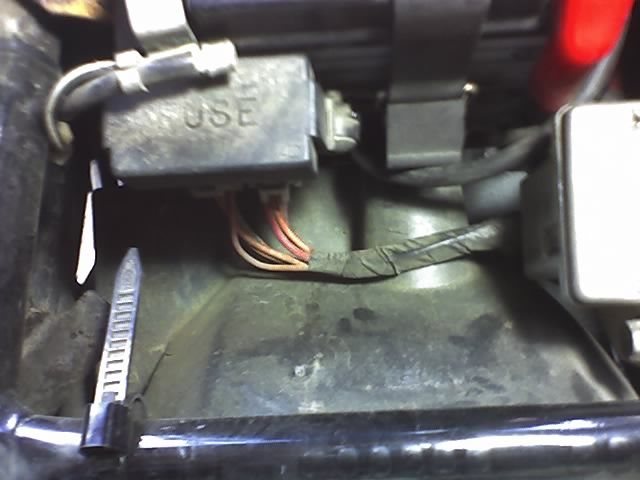 The insert, bent and folded
Fuse block moved, insert installed : (my '90 750)
the storage also goes back along the side quite deep
With my extra stuff and the garage door opener (wired button at the top of the dash). there's even some room left over yet.