So time to start a build thread. I'm new to street bikes so this is to document my progress and get advice from all you experienced kat owners.
Here's my kat when the PO had it.
I've been wrenching on vehicles since my first car at 16. A 1980 Corolla that I slammed to the ground, huge stereo and "custom" gorilla fur interior! lol Pics cuase it brings back some awesome memories!
Sold it and bought my 2000 tj. I've been wrenching on it for 17 years.
Always wanted a bike and actually was considering it when I bought the jeep. I have some experience on mx bikes but I am in no way an experienced rider. About 5 years ago I was on the lookout for a cheap project bike. Something to work on and then learn to ride. Something to commute to work with since the jeeps a pig on gas and not exactly cop friendly. Mentioned it to an employee at work and he says" I've got a 1990 katana I'll sell you for $50. Price is right so I'm in and go look at it. I've read lots about a 600 not being a beginner bike. Some say it's fine others say hell no. I'm in my 40s and have no plans to be tearing around testing its limits. Just a short commute to work and maybe a couple rides on the weekend. If anything I worry more about the weight of the bike than the power or speed. I got a laugh when my son pointed out the max on the speedometer. I have no desire to get anywhere near that. For now at least. Maybe after a couple years of riding I'll see the sport side of the bike.
Pics of the bike when the PO had it.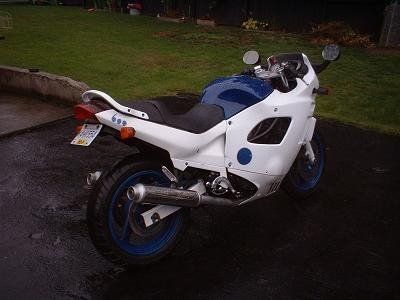 Reading between the lines he had worked on it and not tightened the rear tire and it came loose on him so he dropped the bike. He stripped it down to just frame and motor and got lazy and bought a new bike. He had labled and bagged "most" of the nuts and bolts and said it should be all there. So I said why not and thew it in the back of my Cherokee. It also came with a full set of 1999 gsxr600 fairings and headlight(that he was going to put on) and the can from his kawi 600 he had replaced. The bike sat for few years as life threw me a curve ball.
So I've been peicing the jigsaw puzzle of a bike back together on and off the last couple years. The bike was last on the road in 2006. My goal right now is to get it all back together and running. Before you say it I know that even if the bike had just been sitting that long that there is alot of stuff that needs replacing. Id be kidding myself if I thought I'd be riding it every day next summer. Once I get it running I'll worry about replacing all the stuff I can guess will need it. Seals, cables, hoses,pads, tires ect.
The PO had done a decent job of labeling all the bolts for the major components so between this awesome site and Google it kinda resembles a bike again.
Haven't taken many pics since progress has been so slow.
So onto what needs to be done. Dogbones must have been bent. The 2 it came with were for a post Kat so grabbed a couple replacements. The fairings are in decent shape just a couple small cracks. The front headlight "stay"(I think its called) is only slightly bent so I should be able to straighten it easy enough. The headlight housing is smashed and cant find one local. Unfortunately shipping to Canada on Ebay can be ridiculous so sourcing parts is a bit of an issue. As example the fuse block wasn't with the parts, he thought it and the rear seat might be in his storage locker but he never came through. Found several blocks on Ebay for $10 but they wanted $50 to ship. Was able to ship it and throttle tube to a friends fiancee who lives in Washington. But she walks on the ferry so have to figure something else out for the headlight and seat.
On the way are a new windscreen and gsxr mirrors. Still need to order a front brake lever, battery and a chain. I know replace chain and sprockets at the same time. The local salvage place did get a pre kat in the other day so hoping I can get some stuff. maybe a used chain for now and once it's a runner replace chain and sprockets. Exhaust is cut just after the cross pipe so thinking I'll try fabbing up the exhaust to run the zx6 can that came with it. Friend of the PO has been a huge help answering my newb questions and offered to help with the carbs.
So since it's been sitting so long I opened the top of the motor. To my surprise it was surprisingly clean!
No slack on the chain and no obvious wear on anything to my untrained eye. Put alittle lube down the plug holes and oil on the everything on the top end. Opened all the other covers on the motor and everything looked good. Obviously I don't really know what I'm looking for but nothing jumped out at me. I let the lube sit a few days then gently turned the crank manually and everything moved easy! Not even the slightest hesitation. Figured after sitting so long the piston might be a little stuck but no sign of it. So that put some fire in me.