Hi!
Just wondered to post a little story of my bike and conclude what has been done so far. I have also future plans for it, but those I keep as a secret.

Lots of pictures. Picture says more than 1000 words.

So bike is a 1994 Suzuki GSX 750 F and I bought it in July 2011. It had only 23400km (14540miles) on the clock. Got it pretty cheap, because PO had layed it down as a result it had been mostly sitting in garage. As a result of the little incident front wheel was changed, lower fairing was gone, some scrapes on right fairings and mirror and the whole exhaust was changed to another orginal (got the damaged one also in addition).
How she was when bought: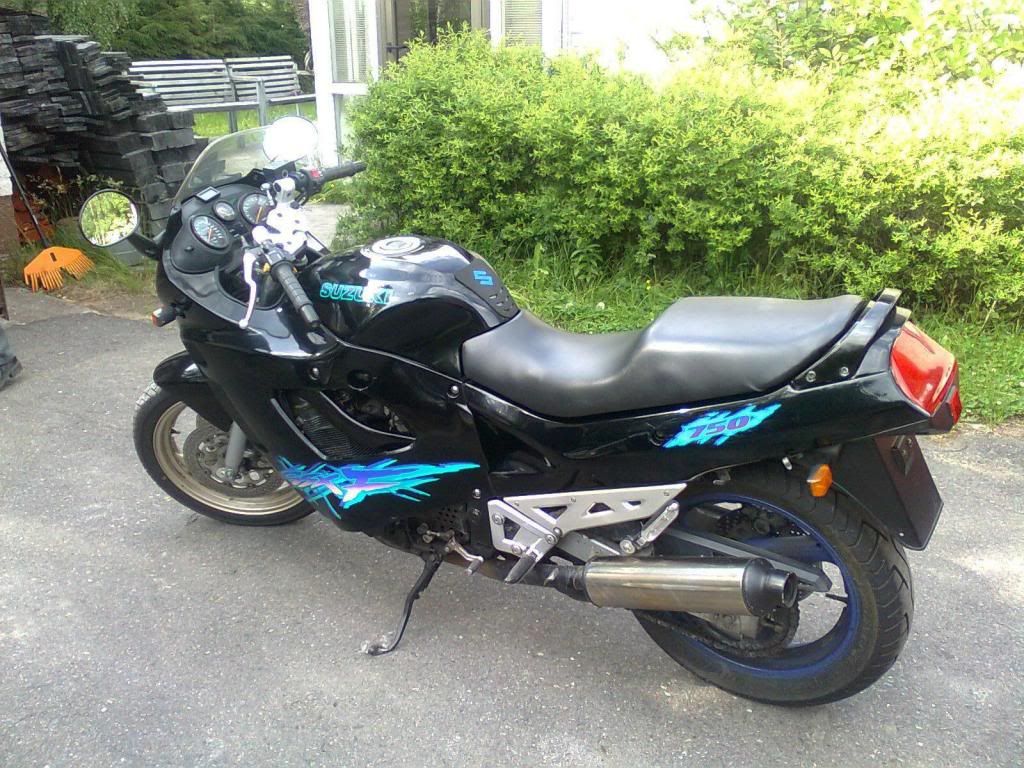 I soon found silver rear wheel and lower fairing. I also painted the fairing black pretty soon.

I found really, I mean really cheaply KAPPA rearbox and bracket which I installed in the last days of driving. This is how it looked after first summer.
Winter 2011-2012
Installed grip heaters (very comfortable when cold), emptied the stock cans and installed perforated tube and silencer wool inside. By "assdyno" it worked little better and sounded also better. This is what I "found" inside stock cans. (Arrow shows how exhaust gases went through.)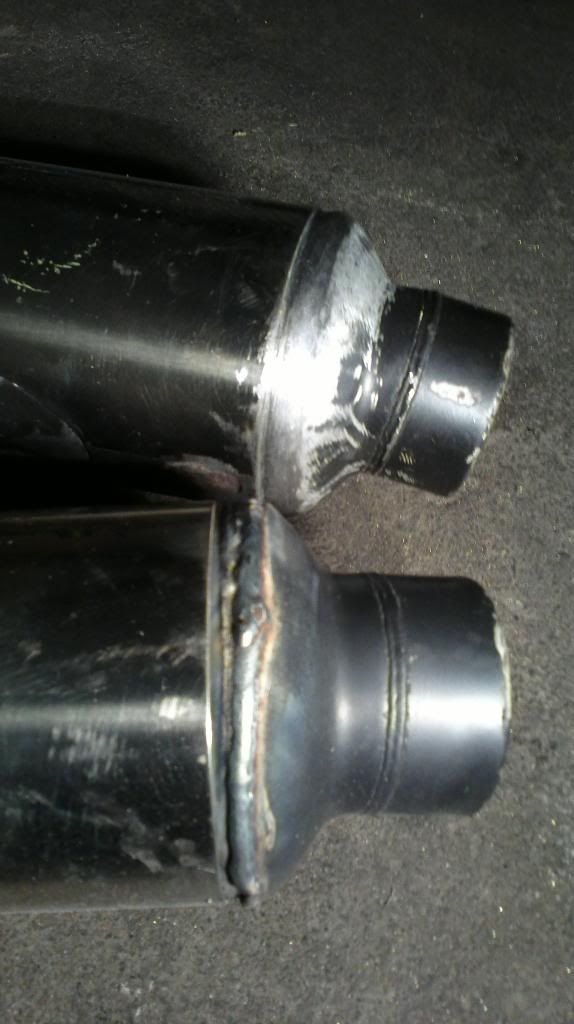 How it sounded.
http://s1071.photobucket.com/user/Ih..._3664.mp4.html
Also tried to get gear position indicator on the bike, but my circuit board failed miserable

, so it wasn't until this winter I had motivation to make it finally work. (GS gear switch was 2 summers on the bike in vain)
I installed Factory pro jetkit because exhaust modifications.
Next summer (2012) was pretty much only riding. I did change windscreen to a taller one.
Next winter (2012-2013) changed sprockets and chain. Went 2 tooth up at front. Runs ~1000rpm lower -> much nicer on the road. Found silver front wheel very cheap, good orginal paint and straight. Basic spring service.
Summer 2013:
Riding to work and back, some fun riding and little trips. Biggest appearance mode so far. Made the 600 tail swap. Bought taillight, handlebar, seats and some small stuff. Side fairings had to order from UK. Sanded down and painted with rattle can.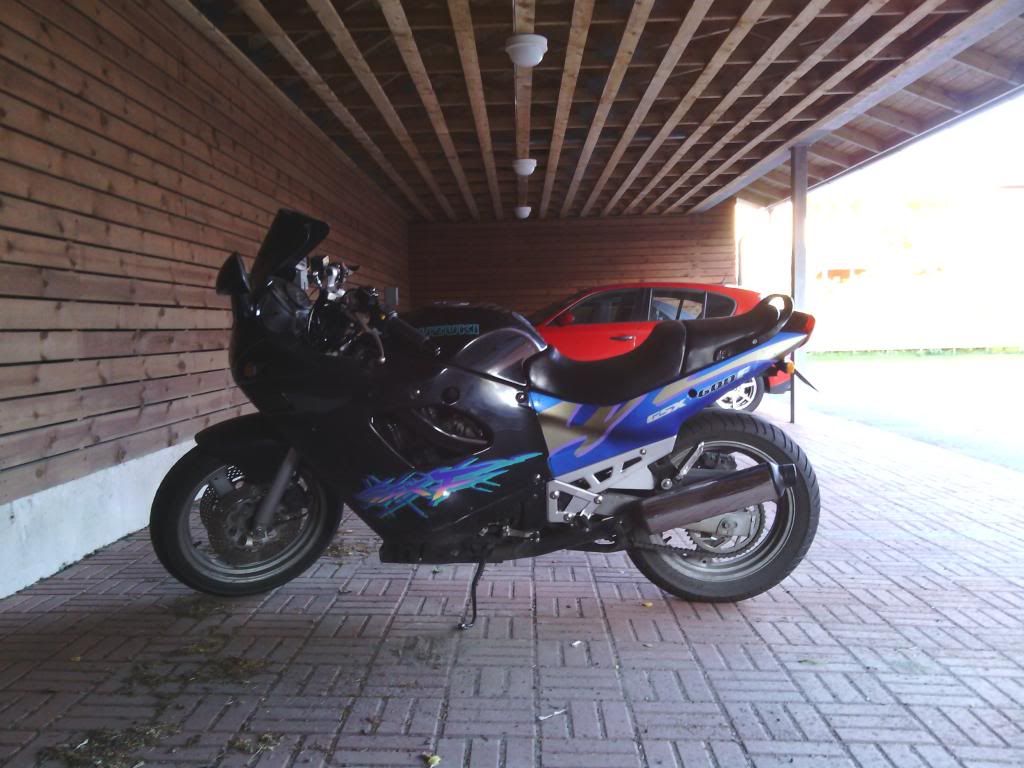 Winter 2013-2014:
Remade all the brakes, installed fatbar handlebar, SS brake lines, 1200 bandit full exhaust with Viper can, oil temp gauge, bandit 600 oil pan&pickup. Small budget headlight upgrade

, gear indigator, re-fitted luggage box. Still need to find new mirrors, because I can only see my fists from originals.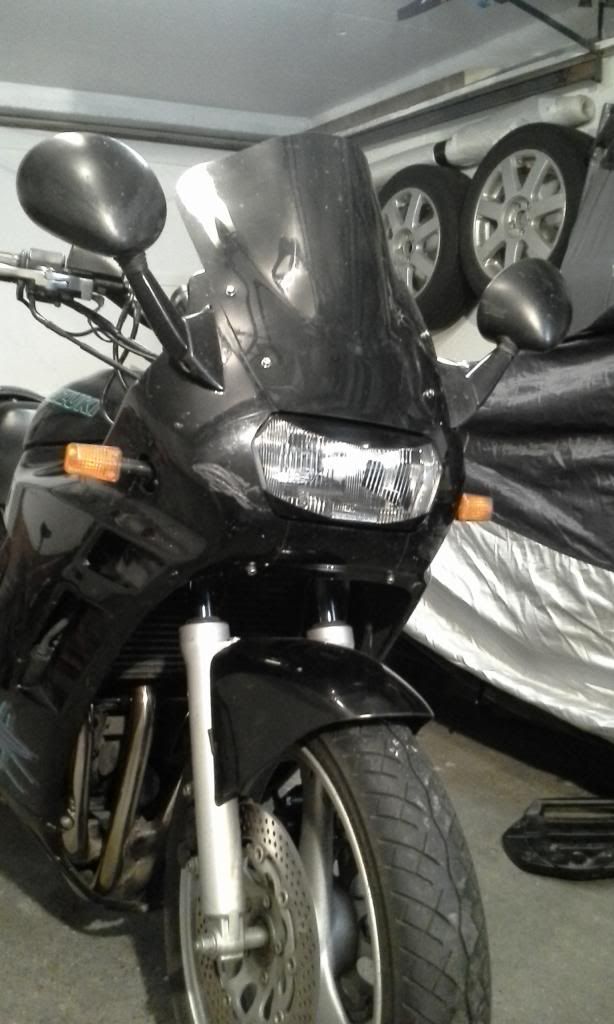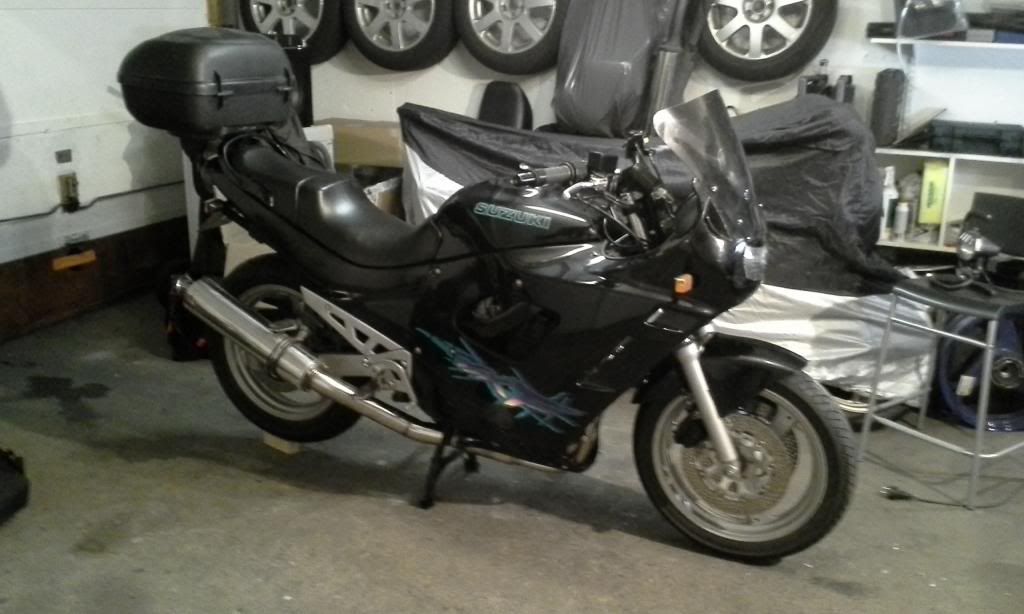 Gear indicator in action. It shows 8 between gears when stationary, but when moving there should be no such thing. Phone mic is terrible, so bike sounds terrible.

http://s1071.photobucket.com/user/Ih...510-1.mp4.html
In total I have ridden about 11000km (6800miles) with this bike. I have joked to my friends that I will never sell this bike. I will go to grave with this one, but hopefully not because of it.

Now I'm just pretty much waiting for summer so I can get back on the bike

Janne K