So once I again i wanna start by saying thanks to katriders.com and its members. I started browsing this site once i bought my kat last year around sept 08.. TY TY!
the PO tore the crap outta it... he dropped her a few times and tried to paint it with a paint brush... etc..etc... the list goes on and on... anyways i managed to piece it back together. Once i got it running and most of the pieces back on i rode the hell outta it. Well after a while she wasnt running so hot due to needing a rebuild of alot of things. So once winter and the cold started to kick it i came up with a brilliant idea of trying to restore and customize what i could with the money and tools i had. I got a few ideas from our fellow kat members, once again thanks to all of you for the ideas.
I still have a few things to finish and i am working hard to have it ready to go asap.
Anyways i wish i had more pics of the progress but this is all i got.. Thanks and enjoy.
After the first rebuild job 2 weeks after i got it.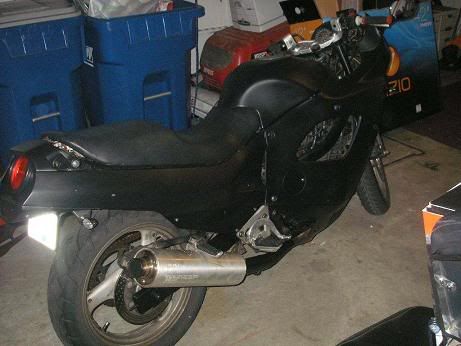 I custom built a tail cause i wanted a more sleek looking rear end. Thanks JOE for the idea! I was gonna find a buell tail but didnt happen so I made my own.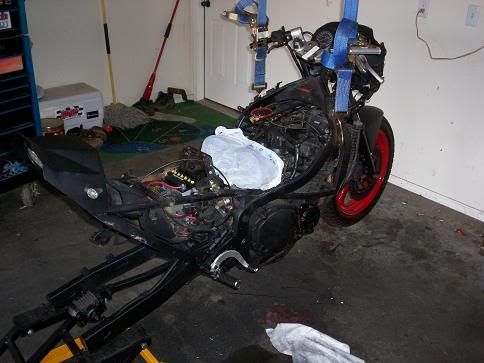 Rebuilt the carbs and all that stuff...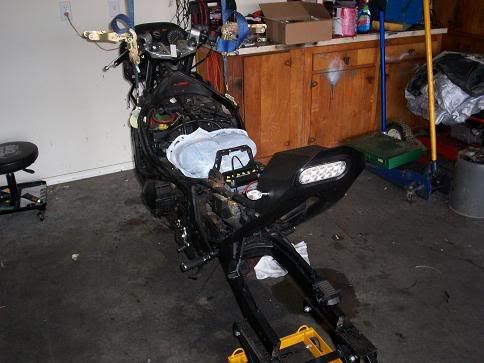 Removed the subframe and bought a sheet of 18gauge metal and started cutting and welding. The tail officially started out as a cardboard template. Lol.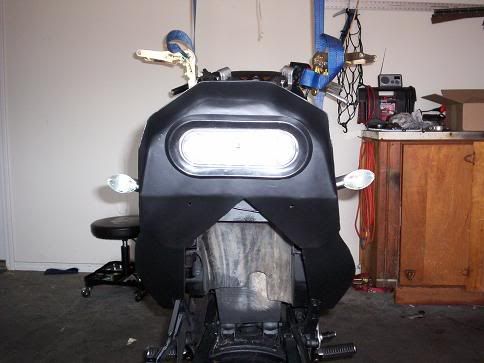 Grinding, Bondo and sanding away to reach somewhat smooth.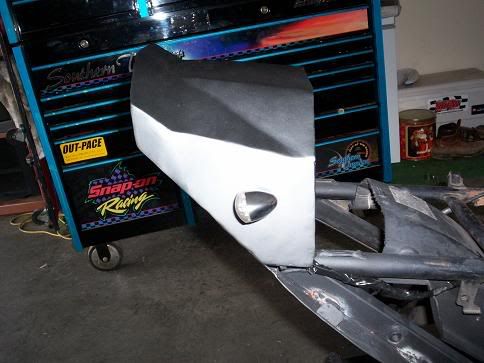 Re painted the wheels and forks. Put new seals in them also.
New headers are on the way!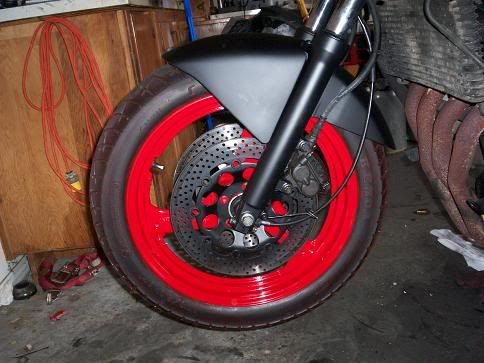 New brake pads front and back.
Bought a D&D satin can off fleabay. It came off a R6 or something so i had to get some 2in pipe and bend and weld onto the existing one to get it to fit. The seat is another deal. Took the orginal seat from the 750 and cut it to fit and re wrapped it. It works alright but i found a pre 600 seat for $6 on fleabay so i bought it. I'm going to have to make some new pieces to take out the gap as you can see in some of the other pics.
So heres what I have right now so far.
New chain sprockets and all that stuff. 15t front, 47t back 530-118 link. I also made new handle bars because the others were bent and outta shape from being laid over. New grips etc.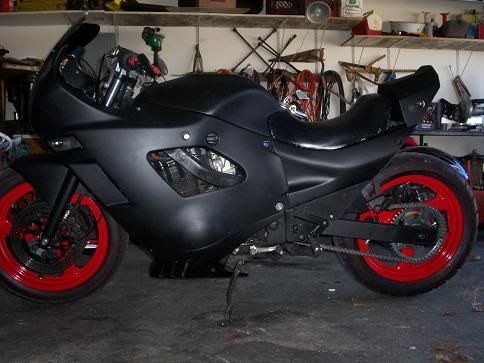 Bought a LED tailer tail light from Autozone.
Bar end mirrors now. Clear blinkers front and back.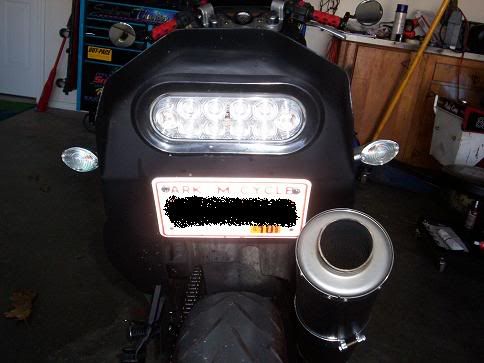 There you can see the gap from the seat I just got today. Ill prolly cut 2 little pieces of metal and tack them in and repaint it. You can also see my ghetto exhaust job.
My dad thinks that i stretched it out a little bit with the new tail.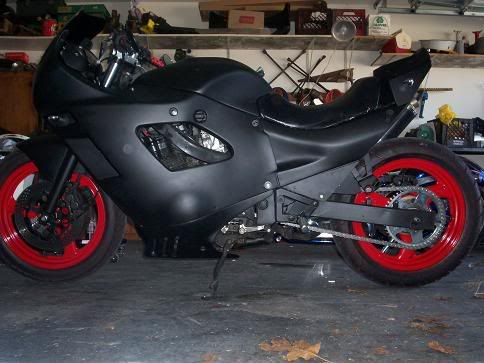 So there you have it. All done by myself. The new custom kat.. Well new to me now and Im sure she glad to have a new owner who gives a **** about her.. LOL... Theres a few other ideas i have to finish her up but just wanted to share what ive done and to say how much fun its been.
THANKS to ALL! When people ask with did all these things, Ill tell them that Katriders.com and Myself!...