got tired of the old ugly gold wheels, so i decided to strip them and paint them flat black. i also did the forks and a couple other spots the previous owner half-*** painted gold. i also removed the front fender. too bulky. i'm going to look around and get an idea of what i like, then fab up a new one. pics:
front wheel: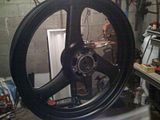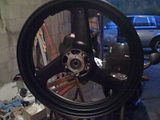 rear wheel: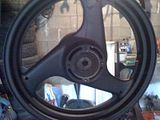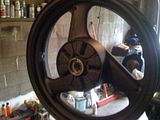 right side: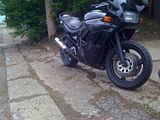 left side: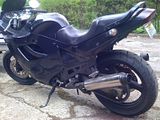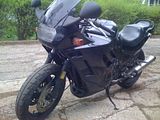 rear wheel on bike: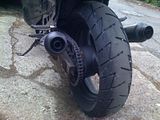 front wheel on bike: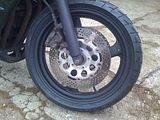 my new license plate light (had to fab up something so it would pass inspection):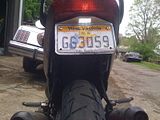 and a quick shot in the dark:
i also put on new pads and new tires. 120/60 up fornt and 160/60 in the rear.
i have to say that i do NOT like the new combo. the bike is way too sluggish leaning in and out of turns for my taste. i'll likely be going with a narrower rear tire soon.
however, next on the list is to clean up that ugly road rash from the last owner.