Friday started out like any other boring day. Got up, did some stuff, took Kristin's bike for inspection.... called JayBell and was like "Yo, I wanna see what they gots out at the Triumph dealer" so I meet Jay out there around 3pm. After a little tire kicking and general inspection "can I go for a ride?"
Yes sir. Otherwise how will you know if you like it?
Well... the answer is. I like it. A lot.

2008 Triumph Sprint ST.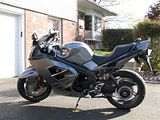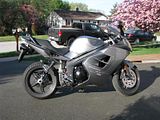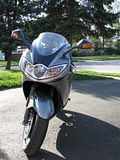 My sincere apologies to JayBell and backwards psychology who were waiting to go for a ride while I was dealing on the machine. I brought it home Saturday morning. Still have the bandit. Kristin's planning to ride it... soon as the heat wave breaks (

over 90* again today for April is HOT).