Turn your speakers down. NOW.
Clip of the Kat running, before final tuning. This is the short 14" Holeshot Comp2 highmount, and Holeshot header. Not an exceptional clip, but it gives and idea of the note the pipe gives. I just think it's goofy 'cause of the rich little cloud she blows. :P
KatRoid inspired me...had to put this up, in case any of you have ever thought of going with Dale Walkers stuff. I love it. Snorts and rumbles in the low end, howls near the limiter!
[ame="http://smg.photobucket.com/albums/v407/Spike_8_8/?action=view&current=IMGP0482.flv"]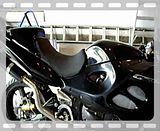 [/ame]