Pre story: My 2002 GSXF750 is originally fitted with two single filament bulbs, one H1 (highbeam) and one H7 (lowbeam). This means that at lowbeam only the left bulb light up and at highbeam they both light up.
Always thought it looked kinda wrong only having one side light up at lowbeam, so wanting to fix this I ordered a US headlight harness from CP.
When I got the harness I realized that this was i no way a direct swap.
I knew i had to change the bulbs, but did not realize that the sockets were competly different.
This is what I am looking at (the H4 in picture for comparison):
Realizing I could not get the H4s to fit in the housing without modding, i started by cutting the sleeve off the H4 to make it fit in the H7 socket.
This: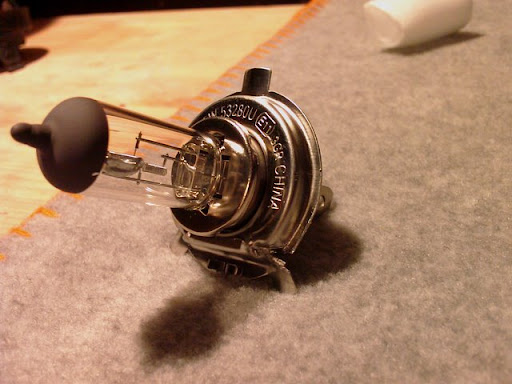 Turned into this:
Gotta love that dremel tool

On to the next bulb. No way cutting an H4 would make it fit the H1 socket so had to cut the H1 socket off
Got the bulb in and fixed with a custom spring clip
So now I have high and low on both sides

Just have to test them in traffic to see if there is a problem with blinding as the reflectors are different than on the US models.
Initial tests in the garage suggest this should not be a problem.
Anyway I still have the possibility to go back to stock if I should so desire.
I do believe this mod will make a big difference in visibility + make the Kat just a little bit cooler