Hey folks,
So, thanks to the great people of this forum my bike ('93 600) is getting close to being back together. However, putting the rear and front wheels back on today, I have noticed some potentially missing parts.
I don't have a pinch bolt for the front axle. This seems important?

No. 13 and 14, Bolt and Nut (Pinch Bolt) for Front Forks
Also, after putting the rear wheel back on it seems kinda not-free-spinning if the axle is tight, and the left (gear shift) side seems like the swingarm is reeeally close to hitting the sprocket bolts. After looking on BikeBandit, wondering if I am missing the spacer below?
No. 10, Rear Wheel, Spacer:
Here is a picture of the left side swingarm; seems too close. You can sse the sprocket bolt maybe a millimeter from hitting the swingarm (click for big):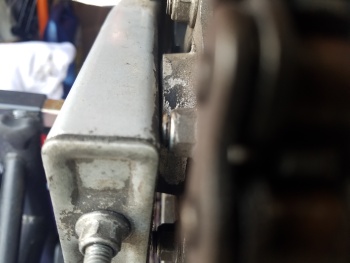 As such, here are the questions I have:
Can I use any old Bolt and Nut as a Pinch Bolt?
Does it seem like I am indeed missing a rear spacer?
If so, can I use a stack of washers in place of this spacer? (guess I wouldn't know the thickness needed)
Thanks very much!