A bunch of carbon on what looks to be voodoo doll hair. This was an easy project...."You too can have a loud exhaust for cheap" Not responsable for damage done to bike or exhaust as a result of following these directions.....I am just helping us save money.
Tools: Electric drill, 3/16" drill bit, rubber mallet, patience, 3/16" rivet with 1/4" depth, rivet gun, 12mm wrench, 12mm deep well and ratchet
1. Remove slip-on RS-3 not loud enough exhaust using the 12mm wrench and ratchet/socket. There are 3 locations to loosen/remove. The hanger strap, the alignment mount (mid) and the exhaust collector strap (lowest)
2. Drill out all rivets at one end.......I think it was easier to do the lower one that attaches at the mid-pipe.
3. Seperate the canister from the resonator that is till attached at the mid-pipe (attached by one rivet). Have another person help ya. This is a pain because the fierglass is packed in pretty tight around the canister, and sandwiched between them is the birds nest of wire. Be ready to pull hard. If you are doing this alone, use the mallet on the lower mounts to seperate the two pieces.
4. Reassemble(sp) mid-pipe into the header collector, slide on the exhaust canister, hold the exhaust and start the bike....this will allow some carbon/wire/rivet junk/fiberglass to blow out before you reassemble. Listen to the new sound of your louder, more toned exhaust. If you dont like it, just put it all back together....but dont forget the single rivet holding the resonator in place.(only needed to reassemle for lower db's)
You choose weather you want to leave the fiberglass around the canister. I chose to leave it because it should keep the canister from heating up excesively on the passengers ankle.
5. Remove exhaust from bike, reassemble on ground (use the mallet if neede), align the open holes in the mid-pipe and canister and pop-rivet that sucker back together.
6. Reinstall the new exhaust as in step 4 and tighten down all 3 mounting points again.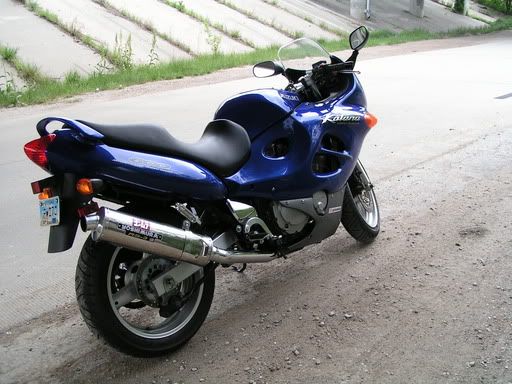 VIOLA' you now have that loud sound many of us wanted, but didn't get from the Yoshi. If you have any questions PM me or e-mail me. I thought this would be kind of usefull to those that wanted a little more sound out of the Yoshi.