Hey everybody..
There's something I want to do to my bike that is low cost and I think would really bring out some life on the tail fairings...
I have a Pre 98 600 and I am wondering why no one ever thought to produce a decal that can be placed over that stupid silver/grey think on the back fairing?
I'm talking about this: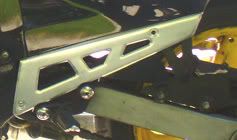 If a decal was produced to completely cover this, it would be possible to give it any color you want- but the color that interests me is chrome. I think the silver/grey is stupid looking, and real chroming for something like that is completely impractical. But if you had a decal measured and cut to fit exact, you could make it Chrome, Gold Mirror, or any other color with ease.
I know the surface isn't completely flat, it's slightly beveled, but I'm sure that could be worked through. At any rate.. it would be a cheap and easy way to add a little spice to that part of the bike. (And I'm the type that thinks painting it the same color as the rest of your bike looks kind of stupid).
I've been thinking of just getting some chrome tape and cutting it out over it.. but I can't find one just wide enough to cover it at it's widest part (and it has to be all one piece.. otherwise it will look like tape). Is there any suggestions on this? Is it possible to just get a sheet of that chrome vinyl with the sticky on the other side and I can just cut it to fit? Where can I get that?
What do you guys think?