How to make a 4 way flasher for 98-02.
This will be easier with both side fairings removed but it is only necessary to remove the "Third Eye" faring. There will be two large connectors on the Right side of the bike (your left side if looking at the bike head on) on top of the headlight and behind the third eye fairing. Unplug the Yellow connector.
The wires that run towards the turn signal switch will be covered in a plastic wrap. Carefully cut off a short portion of the plastic wrap. Locate the Green and Black wires on the Switch side of the harness.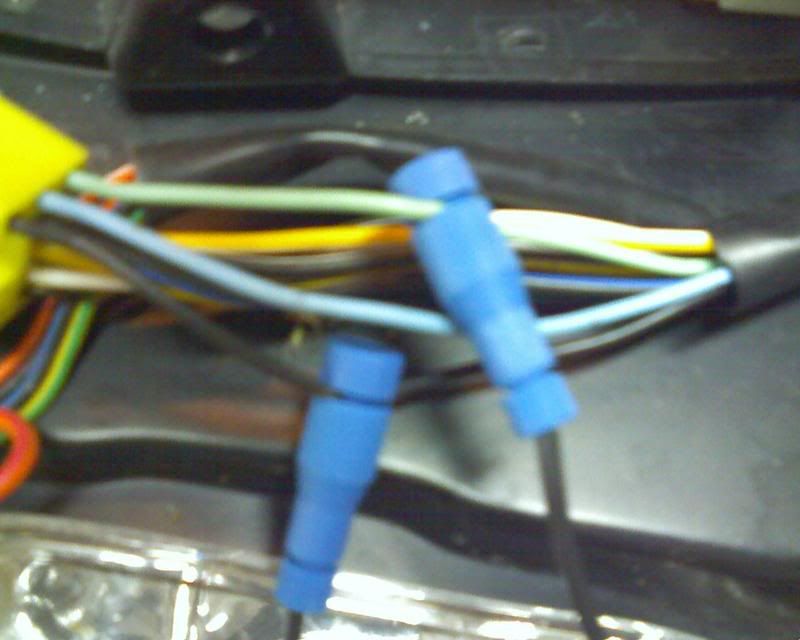 If you are looking at the connector like this it is the top right and bottom right wires on the right side of the connector.
I used the quick tap style twist connectors but you can use what you want. I have used this style connector for a long time and have never had a problem with them. Then run a wire jumping the Black and Green wires together with a switch.
Mount the switch in a place easy for you to access it with some protection from the elements. I found that I could stuff mine in the space between the windshield and the gauge surround.
Now when you turn indicators will function normally until you turn on the switch that jumps the two wires together. To have the 4 way flashers work turn on the switch and press you turn indicator switch to either side and you have 4 way flashers. ( I have not figured out the amp requirements for use with incandescent bulbs, I have all LEDs so I do not have to worry about the amps pulled). I am not a mechanic but I have found this to work well on my bike. Use at your own risk.
Hilde